Welcome To Isla Isabella
Our luxurious 3 acres Private Island is situated on Blue Ground Range; Belize Central America. Located 9 miles in front of the beautiful Southern Village of Hopkins. On the opposite side approximately 9 miles away from the Coast of the Barrier Reef and 12 miles away having 30 to 45 minute boat drive all depending on the weather off from the main town of Dangriga, next we have Placencia being 16 miles away, also located on the Southern part of our amazing Country of Belize.

Isla Isabella Private Island is the realization of a dream to create a 'beyond luxury' exclusive hideaway. This unique destination was developed to embody the very best of our archipelago, bathed by blue skies in the aquamarine waters of the Beautiful Caribbean Sea. Isla Isabella Private Island is an exceptional luxury retreat where our guests are treated like royalty.

Isla Isabella Private Island has been designed and curated with privacy and comfort as the guiding principles while allowing the Caribbean Sea to take center stage. At one with nature, each of the private retreats is built using local materials, combining contemporary flourishes with interiors designed for sensory exploration.
Davon Gongora
Davon Gongora, Property Manager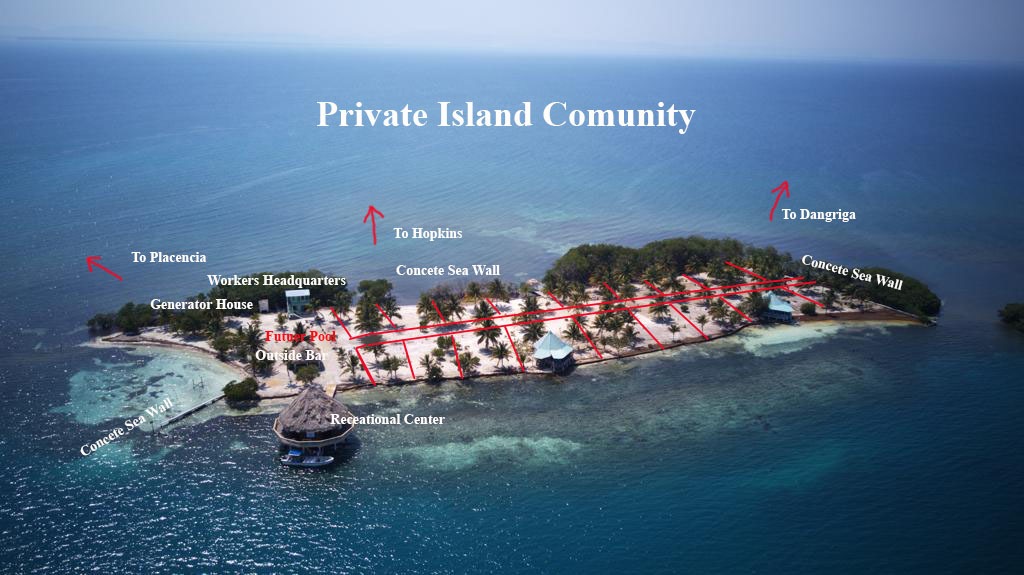 Here at Isla Isabella Private Island, we offer you many activities within the area of the Private Island itself, and also sea activities including: Snorkeling, fly fishing, kayaking, and scuba diving - just to name a few.

We can even arrange an Island Hopping day-tour for you to nearby islands such as Tobacco Island and others. To help you relax after a day's activity we have relaxing and comfortable villas to accommodate you; with an Outdoor Bar and Recreational Center.

We hope that your experience here with us will be a memorable one!
Overlooking the blue waters of the Caribbean Sea, a Wedding Celebration is designed especially for you.  Walking down a fragrant petal aisle on a beautiful private white sand beach is only the first step of your journey together. A banquet befitting the occasion awaits you and your guests.

While you toast the occasion with fine champagne, our expert chefs will prepare an extraordinary barbecue showcasing local delicacies to enjoy at your leisure during the reception. Elegant flower arrangements on every table will further compliment the beautiful setting, and a DJ or band will ensure you have the perfect music for your first dance.
Our Private Villas
These villas are nicely located with a view of the sunrise in the mornings. Both villas have their own private bathrooms, and floors made from a variety of local hardwoods in Belize.   Roofs are made from congregated zinc to sustain the seawater salt; giving it a longer life span in which it also facilitates in receiving rain water.
Beautiful private verandas.
Air conditioning units available .
Each Villa includes a Sofa for relaxation.
Beds Frames made of Teak and Bamboo.
The bed post are craved with Mayan faces.
Each villa has its own little backup water tank.
The villas available at Isla Isabella Private Island are especially designed to meet your desires and provide you with the most wonderful experience on our private Island.

Made from all natural wood materials to give the villas a more luxurious and splendid sense of Mother Nature. Having the natural view of our Caribbean Sea, as you enjoy the fresh breeze of Tropical Coconut Trees.

If you crave time-out, whether alone, as a couple or with family, make an escape to Isla Isabella Private Island. Rest assured... you'll experience all the timeless moments you've been yearning for. And will be an unforgettable experiences for you to remember for a lifetime filled with memorable moments for you and your loved ones.